FamilyTreeDNA Promo Codes for RootsTech 2022 Attendees
We are offering all virtual attendees special pricing on our DNA testing services: Family Finder (autosomal), mtDNA, and Y-DNA.
This offer will expire, so be sure to take advantage before it does!
View and download the PDF to access our special promo codes!
RootsTech Promo Codes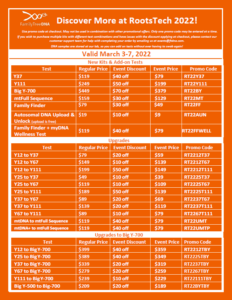 Apply Promo Codes At Checkout
Go to www.familytreedna.com and apply the promo code at checkout.
Did you know RootsTech 2022 is virtual and free to attend?
This Thursday through Saturday, March 3-5, 2022, FamilyTreeDNA will have a virtual booth at RootsTech 2022!
Did we mention it is 100% virtual and 100% free?